The 2019 Festival is Past.
Stay tuned for upcoming screenings & events in 2020.
Thank You For Two Remarkable Nights of Film!
The festival opened on Friday night, September 20th, with a screening of the multiple award- winning feature length documentary, Sembene! about Ousmane Sembene, the father of African cinema. The multi-cultural audience of nearly 150 gathered at Town Hall to experience the film and participate in the post-show discussion moderated by Buz Eisenberg and featuring a distinguished panel.
Sembene! is an extraordinary, beautifully-made film by first-time filmmaker and Co-Director, Samba Gadjigo, who serves as Chair of the French Department at Mount Holyoke College. Professor Gadjigo was joined by Greenfield Community College President, Yves Salomon-Fernandez; Smith College student, Hawa Tarawally; Kawme Harrison, a professor of Sociology and African studies at Virginia Tech; and Ashfield resident Roberta Wilmore. Hailing from Ghana, Sierra Leone, Senegal, Haiti, and Ashfield, the speakers touched on topics ranging from racial discrimination to the importance of youth around the world being able to tell their own stories, the oppression of women, and the effects of post-colonialism in contemporary society, in Africa, and the United States.
On the second night of the festival, Saturday, September 21st, the Ashfield FilmFest presented its signature event—the Short Film Competition. The annual original pre-show skit riffed on the challenge of getting short film entries. FilmFest committee members playfully cancelled the FilmFest due to lack of film entries and moved into a display of Ashfield's other signature event—the Fall Festival—complete with the famed Skalski tag sale impersonator, the South Ashfield pie booth, car parking, David Knowles, the recycling king, and Mohawks baked potatoes. To save the day, an excited mime, local award winning actor, Nate Ruth, ran through the audience with a film reel.
16 films of 5 minutes or less were shown to an appreciative audience of about 400 people. An independent panel of judges from the three towns of Ashfield, Shelburne, and Buckland had previously scored the films and decided on awards. As is tradition, after the screenings, the audience votes on their favorite and the winner receives a beautiful gift basket filled with local goods, products, and opportunities.
It was a night of tragedy and comedy, truth and fiction, and, most importantly, it was a night to celebrate the accomplishments of everyone in "Hillywood" who contributed a story to the event. The Film Festival committee is already looking forward to receiving films for the next festival in September of 2020 and to future screenings of films that make us think, imagine, feel, and explore other worlds.
Samba Gadgigo: "No words can really convey the honor, joy, and gratitude Fatoumata and I felt for being part of this wonderful event. As I hinted, Sembene! has traveled the world and won a lot of rewards but this evening with such a wonderful audience, panelists, and organizers was just exceptional. This great evening of give and take, what Léopold Senghor, our Senegalese poet president, cofounder of the Negritude movement called "le rendez-vous du donner et du recevoir" also confirmed my conviction that art is a universal language that has and always will bring us together around the essential: our shared humanity. I hope this is only the beginning of a long and productive relationship for the benefit of our communities. Thanks again and Cheers."
2019 winners
Grand Prize:
"Father Roy Snipes" Mary Patierno
Best Musical Score:
"Roosters and Birds" Brendan Leowolf
Best Actor:
Nate Ruth in "The Double Life of Hugh"
Best Comedy:
"Out Of Gas"—Bruce Lessels
Outstanding Animation:
"The Run" Macalistair Sloan Anderson
Audience Choice Award:
"Roosters and Birds" Brendan Leowolf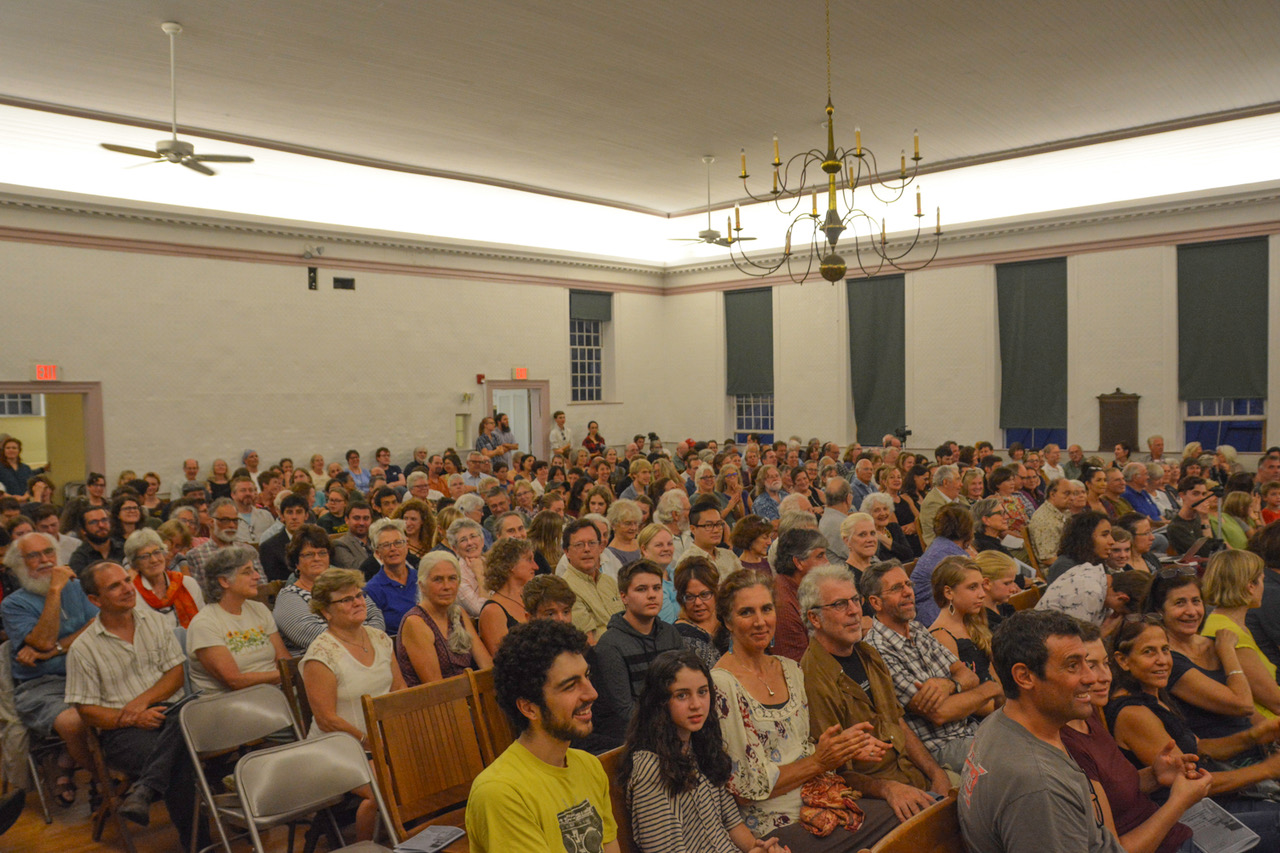 The Ashfield FilmFest brings together two of our favorite things: film and community. Every year, we come together to watch inspiring films and local shorts, engage in meaningful conversation, and, most importantly, have a good time! Whether you're a filmmaker, film connoisseur, or just love going to the movies, the Ashfield FilmFest is perfect for you!